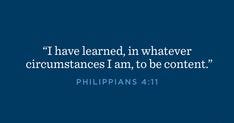 It's good to have dreams and goals. We should be stretching our faith. But while we're waiting for promises to come to pass, we shouldn't be discontent where we are. When we're unhappy, frustrated, and wondering if something is ever going to change, we're dishonoring God. We're so focused on what we want that we're taking for granted and not being thankful for what God has given us.
The apostle Paul said he had to learn to be content. It doesn't happen automatically. It's a choice we have to make. Being content doesn't mean that we don't want change, that we give up on our dreams, or that we settle where we are. It means we don't live our life always wanting something else. We see the gift in what we have right now, and we're trusting God's timing. We know He is working behind the scenes, and at the right time, He will get us to where we're supposed to be.
A Prayer for Today
"Father, thank You that no matter what my circumstances are, I don't have to live stressed and frustrated and discontent. Thank You that You are teaching me to be content with where I am and with what I have. I am trusting Your timing with my wants. In Jesus' Name, Amen."
Taken from "First Things First," by Joel and Victoria Osteen.
Nursery/Mini Church Ages 0-5 - Day 6
Kid's Church Ages 6-11 - Day 4
Pre Teen 12+ - Day 4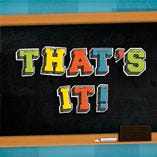 Andrea